Surf Excel Brings Virtual Play Dates
Situation & Challenge
The core of Surf Excel lies in Dirt is good. But with Covid and lockdown we were all indoors.
With schools closed, the kids were all at home with nothing to do the Surf TG, the mommies had a new challenge to face. Picking up on this insight, we cracked an idea where we proposed that even if the kids are indoors, the learning should not stop. Marrying this with the heat of Surf's purpose, that dirt is good, we were ready to execute one of the most relevant and appreciated campaigns in these challenging times.
Strategy
Everything that can happen physically can also happen virtually.
While at home during Covid, most moms were out of activities for their kids. And kids were bored at home. So Surf Excel decided to give these kids a platform to come together and enjoy some fun creative activities together. Which would enable them to learn, get dirty in the process and combat boredom. All done virtually!
CREATIVE IDEA
Surf Excel announced playdates for kids to come together just like pre-covid times.
This idea was executed under the campaign name Playdates with Surf. A PR led campaign that resulted in Earned media showcasing some of the most well known KOL's and Celebrities getting together with their kids to do some exciting home based learning activities and get messy in the process. creating the credibility of Shan usage for different cuisines.
Execution strategy
Unique Identity Creation
new graphic charter highlighting the creative spirit of kids.
Use of Influencer and their kids to conduct playdates.
Using the most relevant Mommy infleuncers and celebrities to create content in the most authentic and real way. With limitations and restrictions, our expert content teams curated content virtually for each KOL ensuring that the brand and campaign identity was kept intact and the right recall was created.
Amplification
Working closely with our buying partners, each KOL's content was monitored and the best performing content was promoted from the brand page across search and discovery channels.
SOCIAL MEDIA
Visual Identity for Surf Excel Play Dates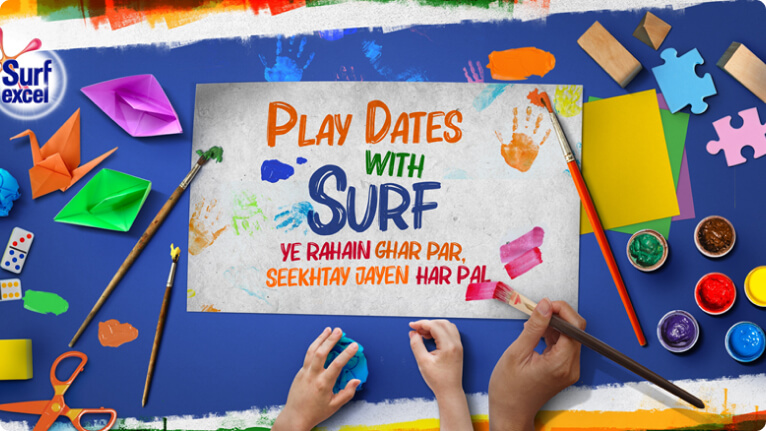 SOCIAL MEDIA / FILM & VIDEO / INFLUENCERS MARKETING
Mark your calendars for the first ever
play dates of it's kind